Hello, and welcome to the 25th Windows Virtual Desktop weekly blog post!! It has been yet another busy week in the world of WVD and the WVD Community.
First we will give you a community stats update:
Slack channel: 572 members and we´re still growing! You can find us here: https://communityinviter.com/apps/wvdcommunity/join
Podcast: 1367 downloads
Twitter Followers: 1219 Followers
Event page views: Incredible 4257 page views!!
User Groups
This week was the very first Australia & New Zealander WVD User Group meeting. I attended the meeting and I have to say it was great! There was over 20 attendee's with some great content.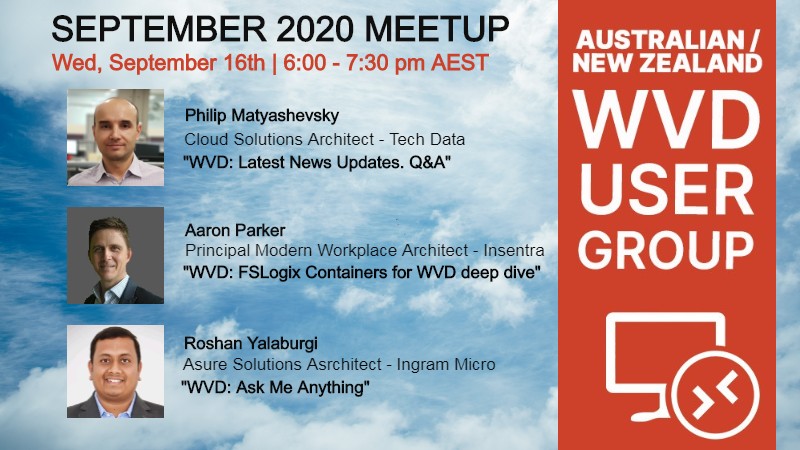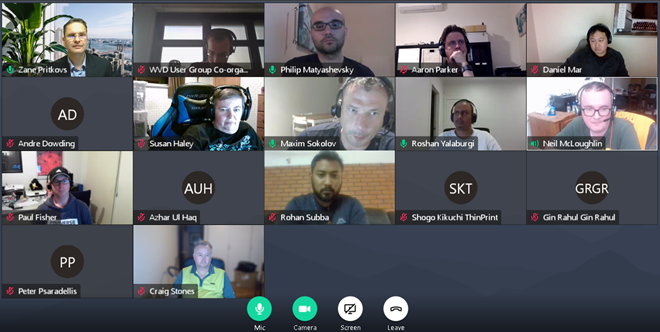 I also attended the German WVD User Group and there was also really great content!!
All recordings of the German and UK User Group are available on the WVD Community Events page!
https://wvdcommunity.events/user-group-recordings
Microsoft Meets Event
The latest Microsoft Meets Event is only a few weeks away now. Christian Brinkhoff has reported that there are nearly 2000 registrations! There is some really great content for which you can sign up for here – https://aka.ms/wvdevent2020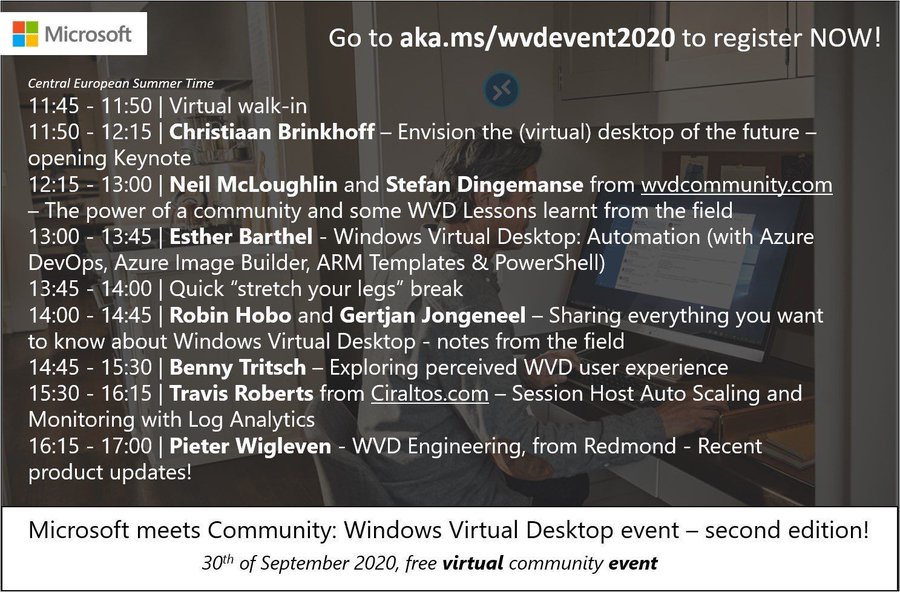 Our very own Neil & Stefan will be presenting a session on some WVD best pratices also!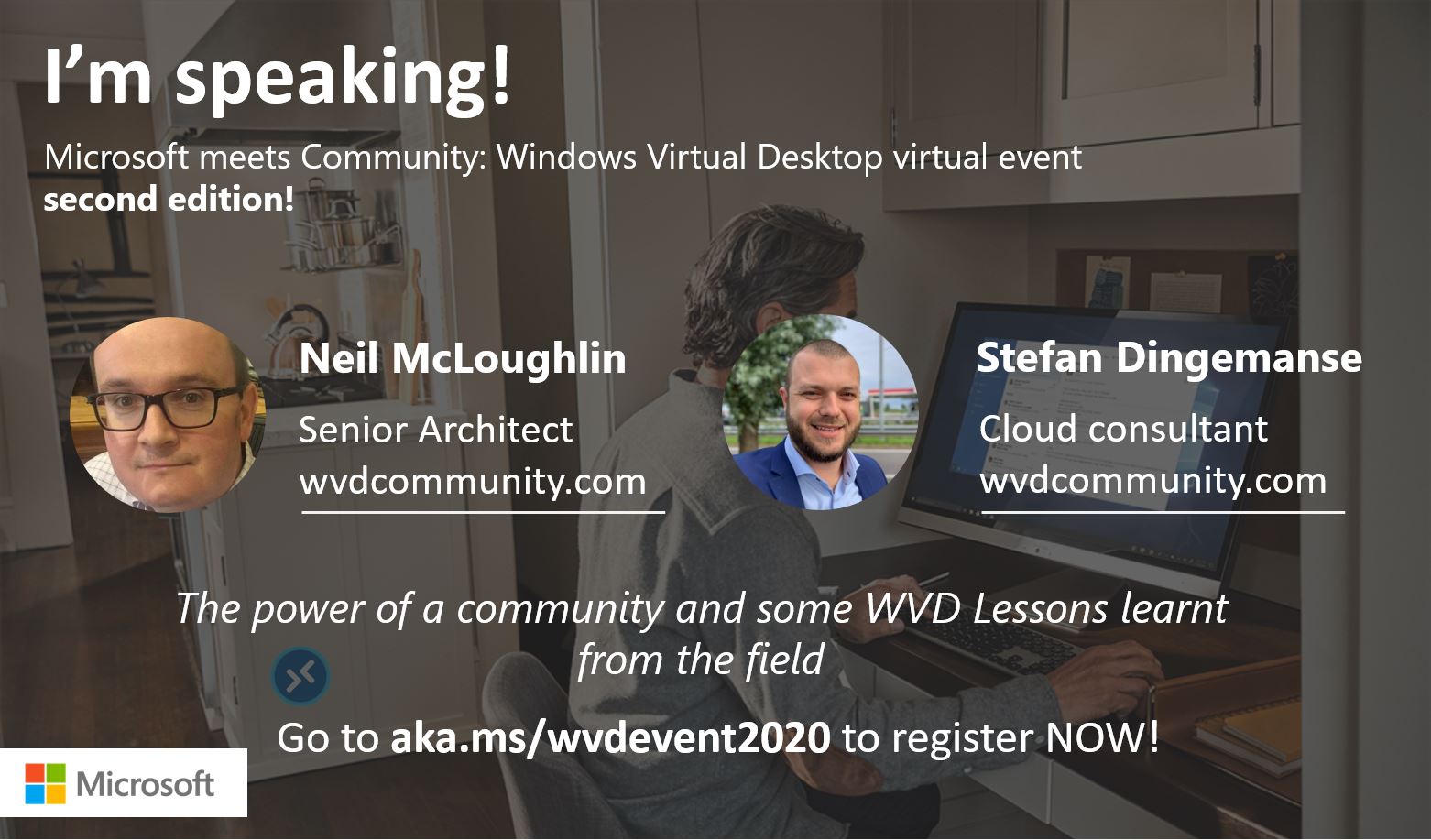 Microsoft Ignite 2020
Microsoft Ignite is nearly upon us!! Obviously this year its completely virtual. There are a few sessions around WVD which I am really looking forward to! The session scheduler is now live and there are over 797 sessions to choose from! Below is a list of WVD focussed sessions so make sure you add them to your schedule!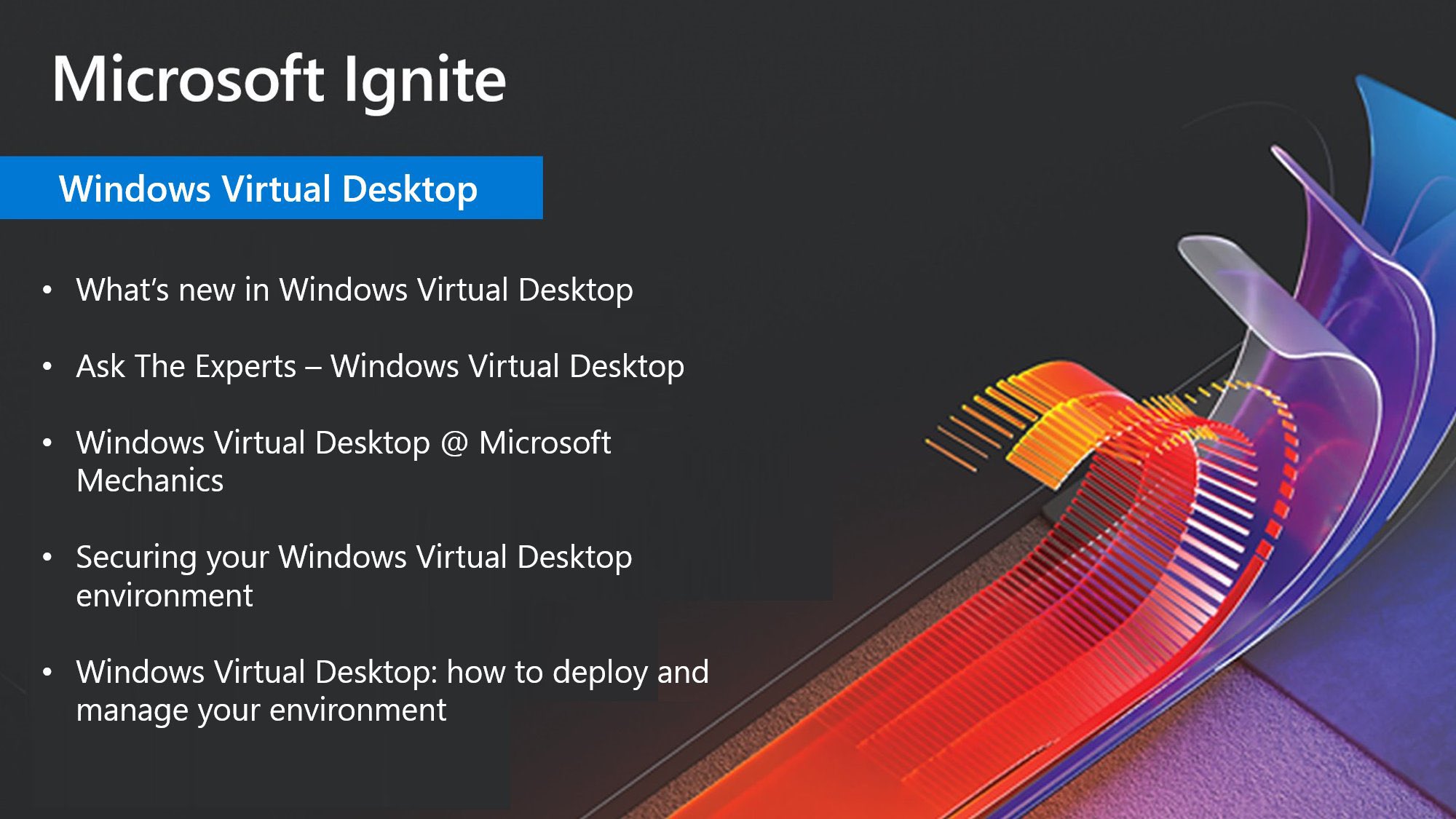 Microsoft Office support for older versions after 13th October
After October 13th, if you run an older version of Microsoft Office you may have issues connecting to some of the Office 365 Services like Exchange Online, SharePoint Online or OneDrive for Business. Microsoft will only be supporting these versions of Office:
Microsoft 365 Apps for enterprise (previously named Office 365 ProPlus)
Microsoft 365 Apps for business (previously named Office 365 Business)
Office 2019, such as Office Professional Plus 2019
Office 2016, such as Office Standard 2016
You can read more info here – https://docs.microsoft.com/en-us/deployoffice/endofsupport/office-365-services-connectivity
Desktops in the Cloud TechTalk – Freek Berson
The guys over at Desktops in the Cloud TechTalk recently interviewed Freek Berson. They had a good chat about WVD, Freek's history of WVD and of course his cool demo's showing the GPU Capabilities of WVD by playing some cool gamers. You can check out the episode here:
WVD on a Microsoft Surface Duo
Recently Microsoft released the Surface Duo which is an Android phone with dual-screens! Freek Berson managed to get his hands on one and showed off a good use case where you can connect to your WVD Desktop in one screen, and then reference something else on the other screen. Looks like a great device, although a tad bit pricy!
Windows Virtual Desktop Walkthrough – Episode 2
Daniel Baker & George Wood from Microsoft have released their second video in a series of videos where they explore WVD. In this video they discuss pricing options and more. You can watch it here:
Enable MFA for WVD ARM
Travis Roberts has released a video going through the steps to enabling MFA for WVD Spring Update. In the video he creates an Azure AD Conditional access policy to enforce MFA on a group of users. Definitely worth a watch if you want to use MFA (which you definitely should be doing anyway!) You can check it out here:
Microsoft Windows Virtual Desktop (WVD) bug with Multisession Windows 10 version 2004
Thomas Poppelgaard shared an issue that he had discovered after updating to KB4571756. The bug appears to be an issue where when you connect to a WVD Desktop, explorer.exe crashes constantly. The fix is to restart the search service for which Thomas has shown you how to created a scheduled task for this when the event occurs. You can check out his post here – https://www.poppelgaard.com/microsoft-windows-virtual-desktop-wvd-bug-with-multisession-windows-10-version-2004
WVD Set Drain Mode PowerShell
Niels Kok has published a blog post in which he details a script he wrote to set the drain mode for all session hosts via PowerShell in one WVD hostpool. It's a really useful script and certainly a good one to have in your toolset! Great job Niels! You can check it out here – https://www.nielskok.tech/windows-virtual-desktop/wvd-set-drain-mode-powershell/
Preparing custom image templates with Azure Image Builder & PowerShell
Ben Reader, a Microsoft MVP, has shared an awesome guide on how to build a custom image with Azure Image Builder and PowerShell. This is really is a great post where he shares the scripts he has written. If you are serious about using AIB to manage your master images (and you should be!) – then give this article a read. You can read it here – https://www.powers-hell.com/2020/09/20/preparing-custom-image-templates-with-azure-image-builder-powershell/
Windows Virtual Desktop Advanced Specialization
Microsoft have released the advanced specialization available to Microsoft partners who meet a certain criteria. If you are a Microsoft partner and want to gain this specialization then you need to go through a specific process where you can show that you have met the demands required. If you are interested you can view more info here https://blogs.partner.microsoft.com/mpn/new-windows-virtual-desktop-advanced-specialization-differentiates-partners-remote-work-expertise/
Windows Virtual Desktop – Building Your Image
Roelf Zomerman has created a really detailed and useful post in which he shows you how to create a WVD image from scratch. He goes into a lot of detail so if you are after a step-by-step guide you should really check it out! You can read it here – https://blog.azureinfra.com/2020/09/10/windows-virtual-desktop-builing-your-image-i/
Microsoft FSLogix for the enterprise
Microsoft have released some architectural guidance on how to deploy FSLogix in the Enterprise. They provide some guidance around sizing, architecture and best pratices around Azure files and Azure NetApp files. You can give it a read here – https://docs.microsoft.com/en-us/azure/architecture/example-scenario/wvd/windows-virtual-desktop-fslogix
Storage Size or Performance, why choose when Azure Premium Files Gives you both
Dean from the Azure Academy has released another one of his amazing videos, this time discussing Azure Premium Files. In the video he tells you all you need to know about using Azure Premium Files! You can check it out here –
The post WVD Weekly blog post 13th September – 20th September appeared first on WVD Community.