Hello, and welcome to the 26th Windows Virtual Desktop weekly blog post!! This week we bring you a bumper episode full of awesome content from Microsoft Ignite!!
First we will give you a community stats update:
Slack channel: 583 members and we´re still growing! You can find us here: https://communityinviter.com/apps/wvdcommunity/join
Podcast: 1414 downloads
Twitter Followers: 1229 Followers
Event page views: Incredible 4257 page views!!
Podcast
This week we had the pleasure of interviewing Vadim Vladimirskiy, who is the CEO of Nerdio. In the interview we discussed Vadmin's history in IT, the history of Nerdio and where we are heading!! It was really great to chat with Vadmin and it's so great to hear he is a very much hands on CEO!! You can listen to he podcast episode on the usual providers or from here – https://www.buzzsprout.com/1078143
You can also watch it here:
Ignite Announcements
This past week was Microsoft's yearly conference, Microsoft Ignite. Personally, I didn't get to see one single session as I was busy working on customer engagements in the US Time zone, but I will definitely be catching up on them this weekend
So what was announced for WVD? Well LOTS!!
You can watch a video of the announcements and also read all about them here:
https://techcommunity.microsoft.com/t5/windows-virtual-desktop/announcing-new-management-security-and-monitoring-capabilities/m-p/1699543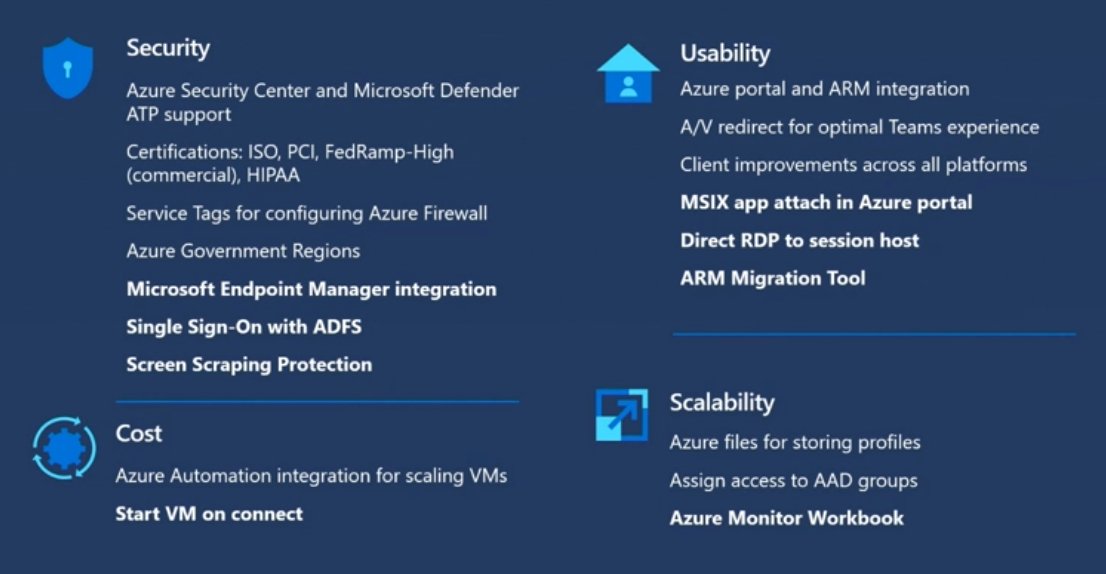 So let's take a quick look at the announcements!
Screen Capture protection
One problem when accessing company's data remotely is that it is hard to protect that data. We can put security controls in place to stop people copying data outside of the device, but a common security concern is that disgruntled employee's can just take a screen capture. This new feature disables that.
Single Sign-on ADFS
Currently with the Spring release SSO with ADFS is not supported. This was originally in the Fall release so its a very welcome addition! Now users just have to authenticate once and they will be signed into their WVD Desktops.
Direct RDP to session host
This feature allows you to make a peer-to-peer UDP connection to your session host rather than being routed through the WVD Gateways. This is going to make a more secure and faster connection, with added user experience.
Start VM on connect
A common issue on WVD Deployments is the lack of availability of VMs outside of business hours. Businesses' want to deploy WVD and save money which means switching stuff off at weekends. But employees also want the flexibility to connect to their desktops outside of business hours. With the Start VM on connect feature we can now power down the desktops at 5pm on a Friday, and then if somebody wants to use it, when they want to connect to the VM it will power on and be made available!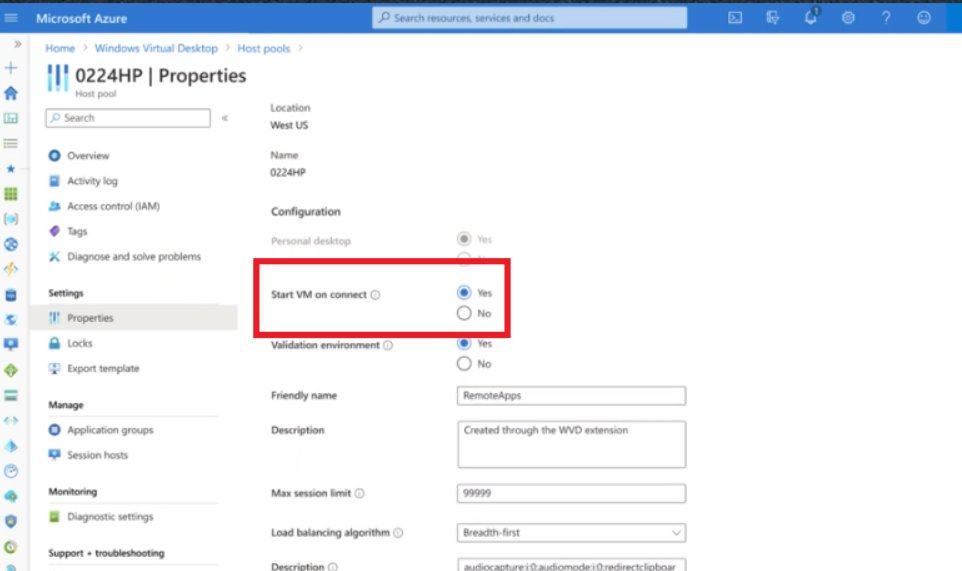 Microsoft Endpoint Manager integration
Windows Virtual Desktop is now supported in a single user mode for Microsoft Endpoint Manager integration. This means we can now use MEM to apply policies and deploy software to our WVD Desktops. The support for multi-session is coming later this year. You can read more about it here https://techcommunity.microsoft.com/t5/microsoft-endpoint-manager-blog/microsoft-endpoint-manager-announces-support-for-windows-virtual/ba-p/1681048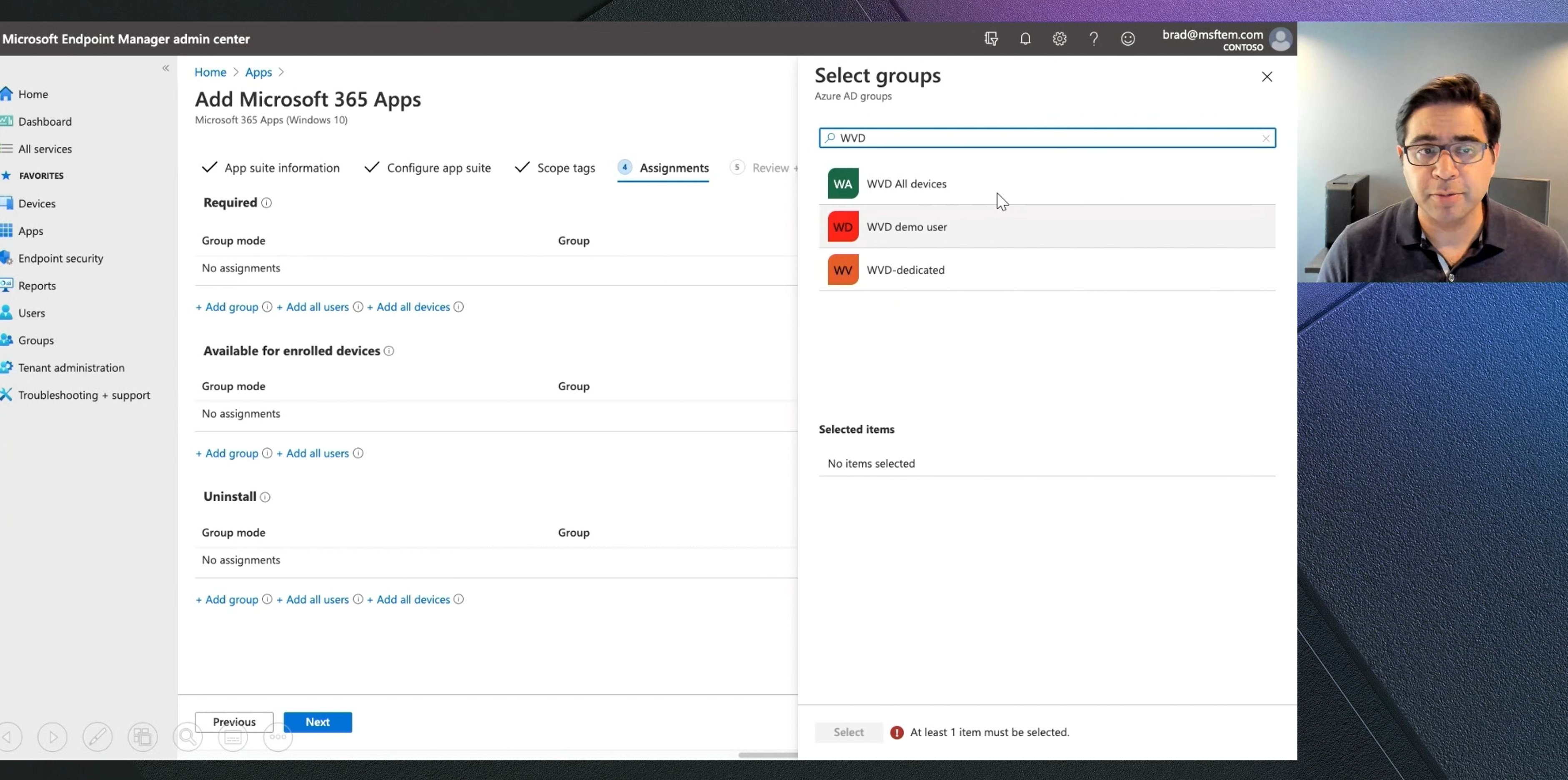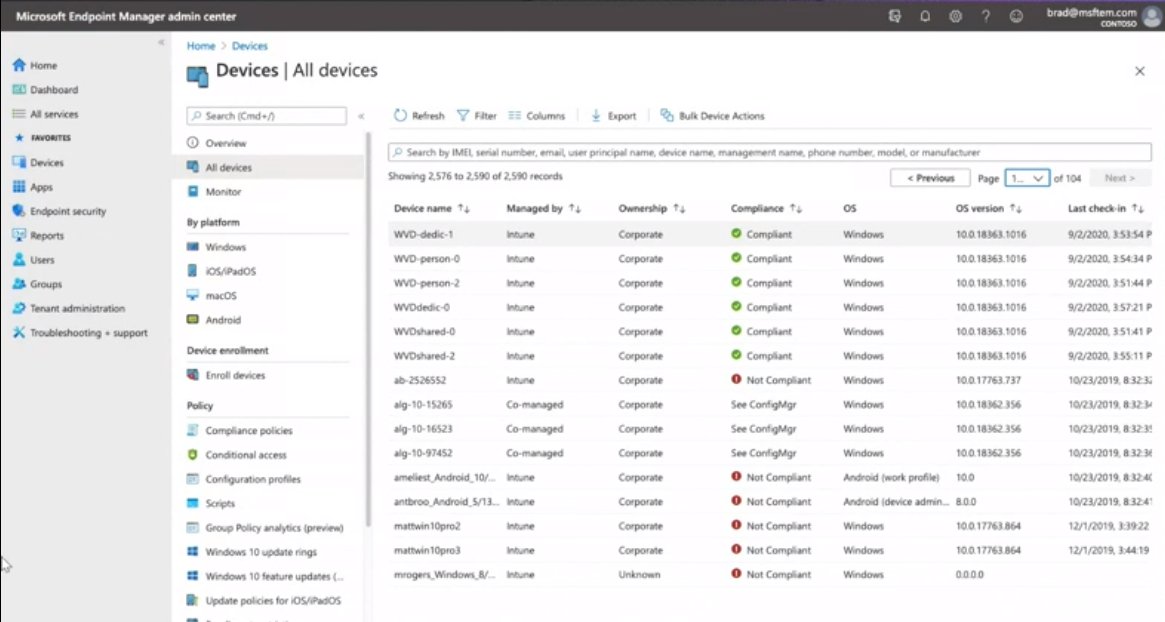 Azure Monitor for WVD
Another nice feature is the Azure Monitor for WVD. This gives a nice high level overview as to how our WVD Deployment is performing and alerting us to any issues.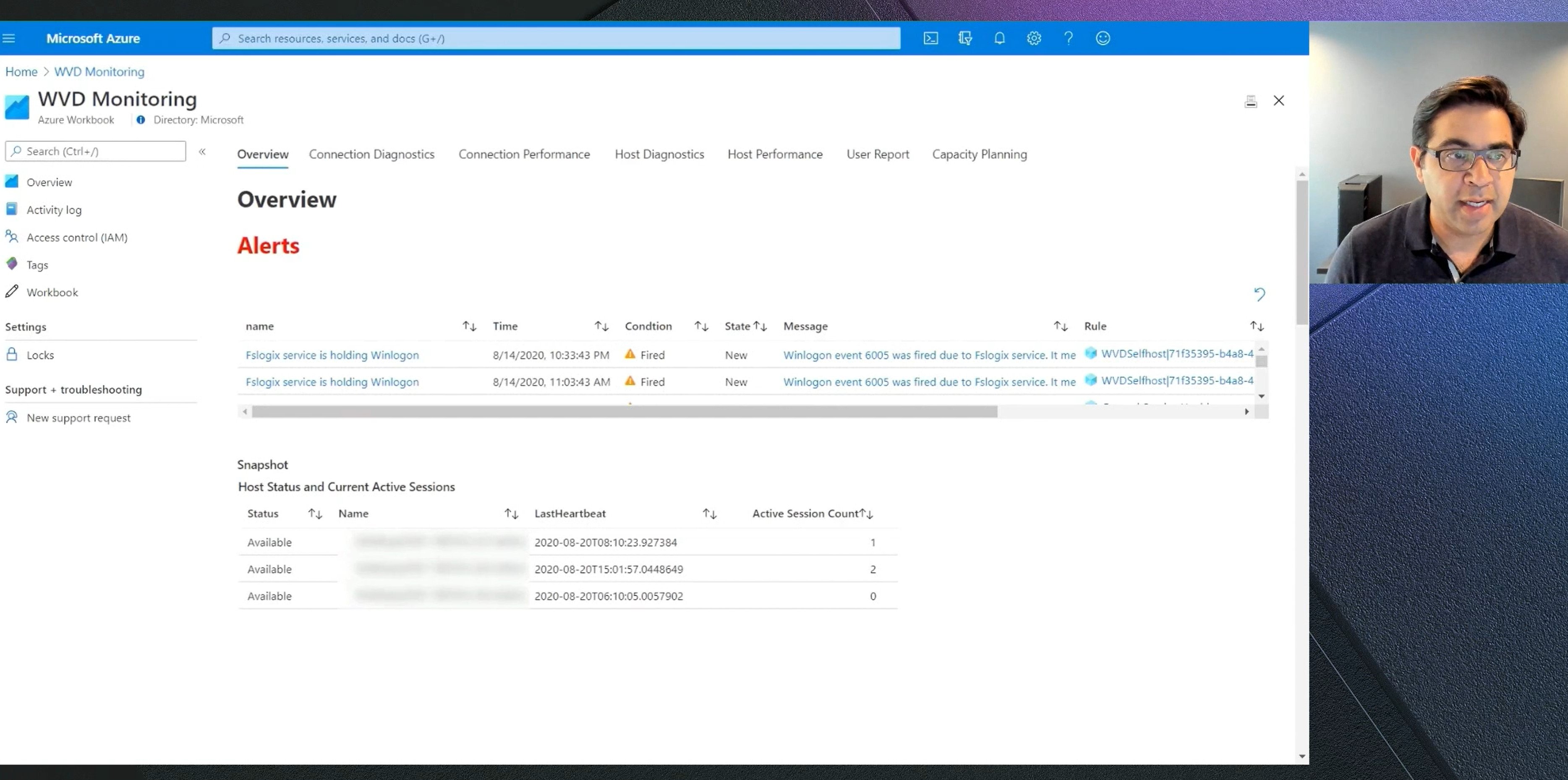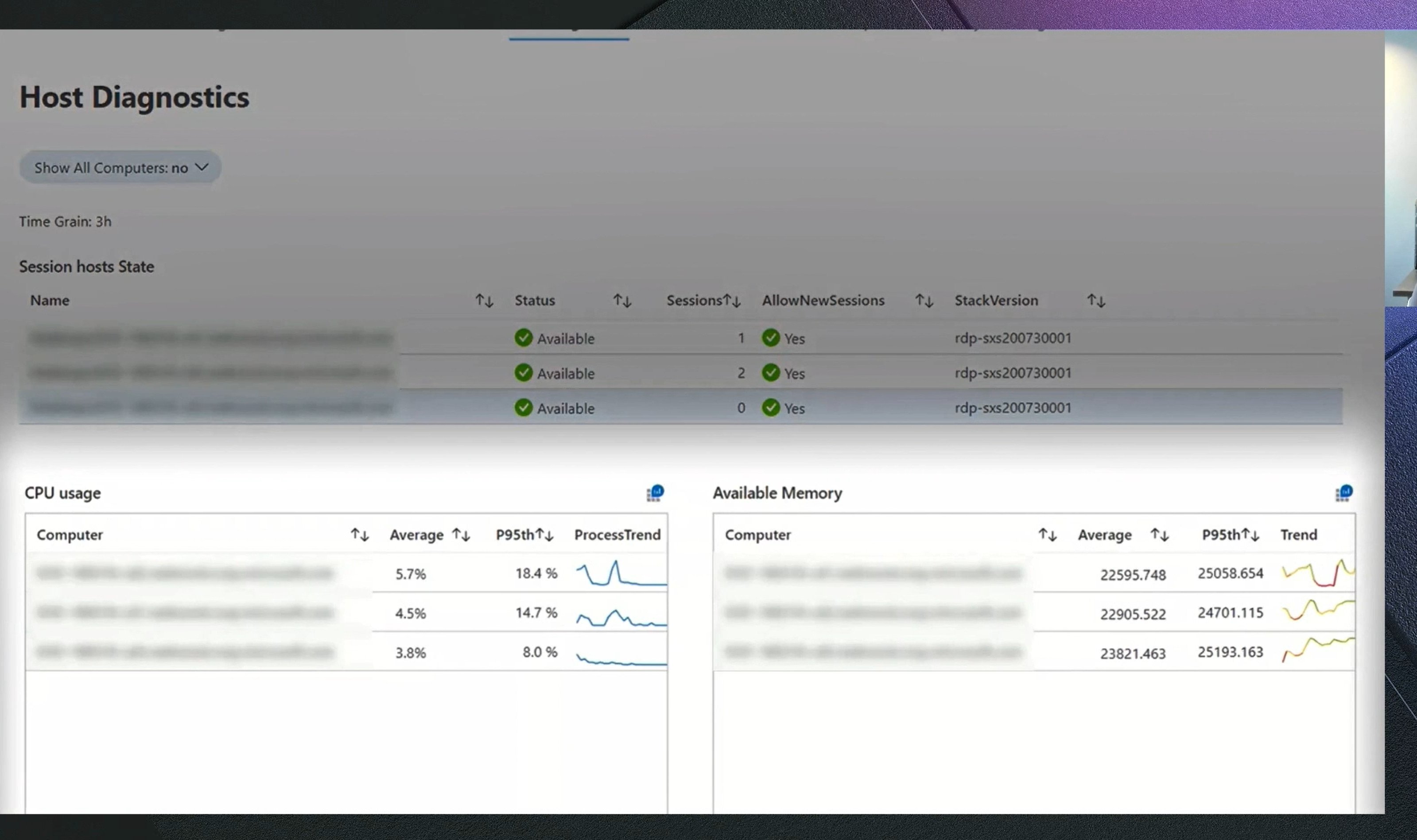 MSIX App Attach
MSIX App Attach is coming to the WVD Console!! Using this we can dynamically assign applications to host pools without having install them into your master image. This should make application management and deployment a whole lot easier!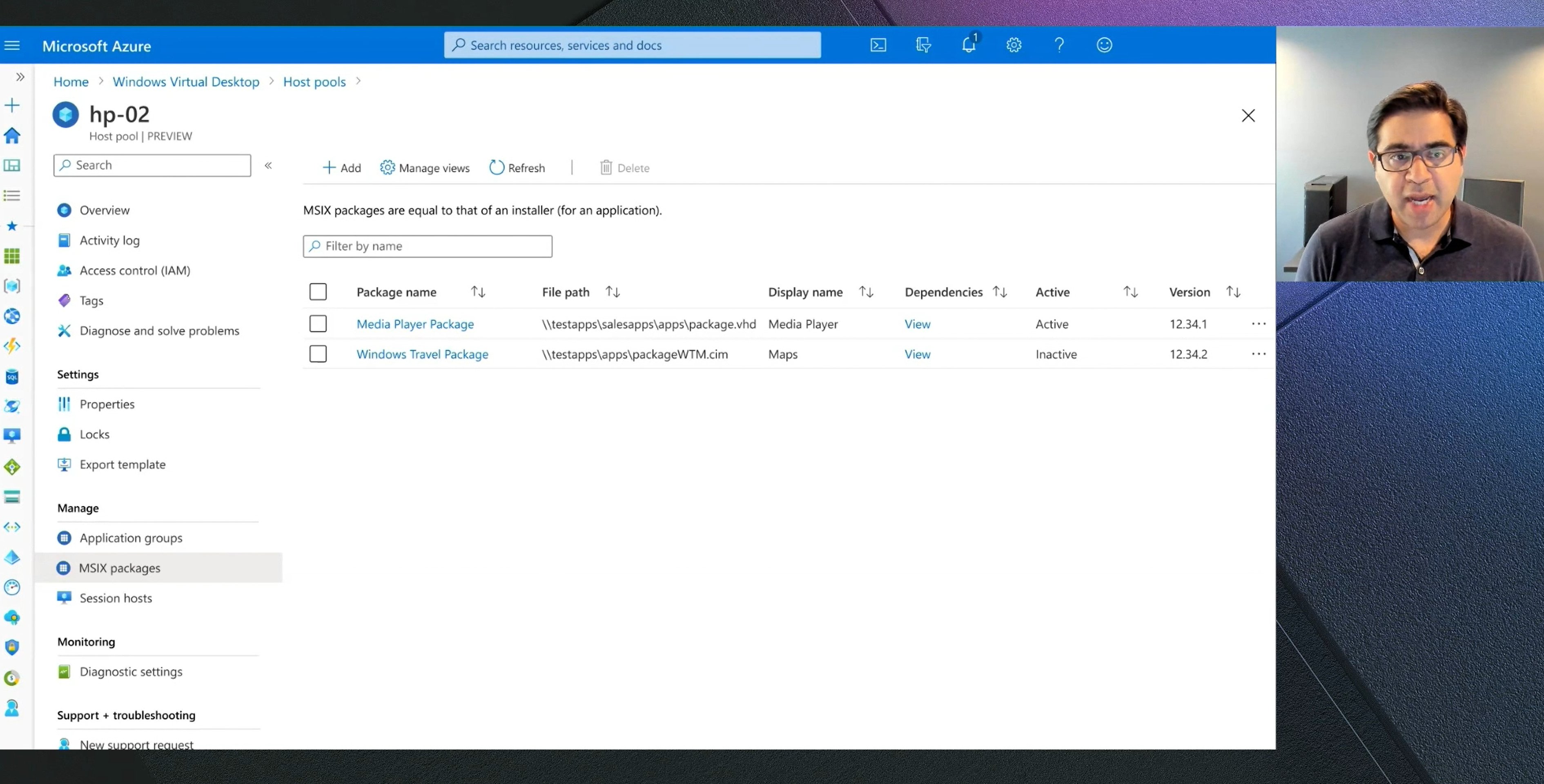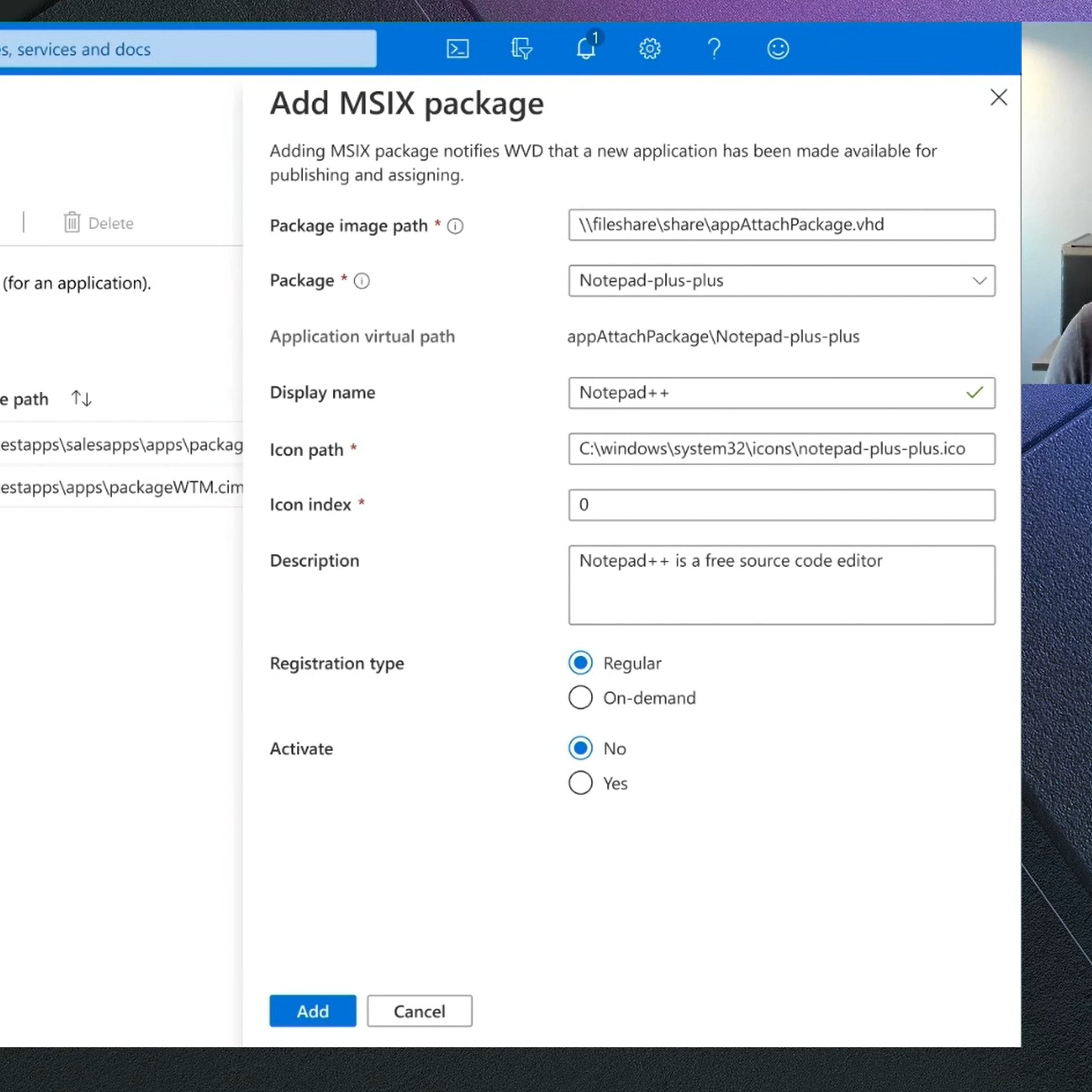 WVD Roadmap updates
After the Ignite announcements Microsoft have updated their roadmap for WVD. As you can see there are a few latency improvements, latency improvements, direct connect, new metadata locations, protection from screen scraping, automatic stop start and MEM Integration! Phew I can breath now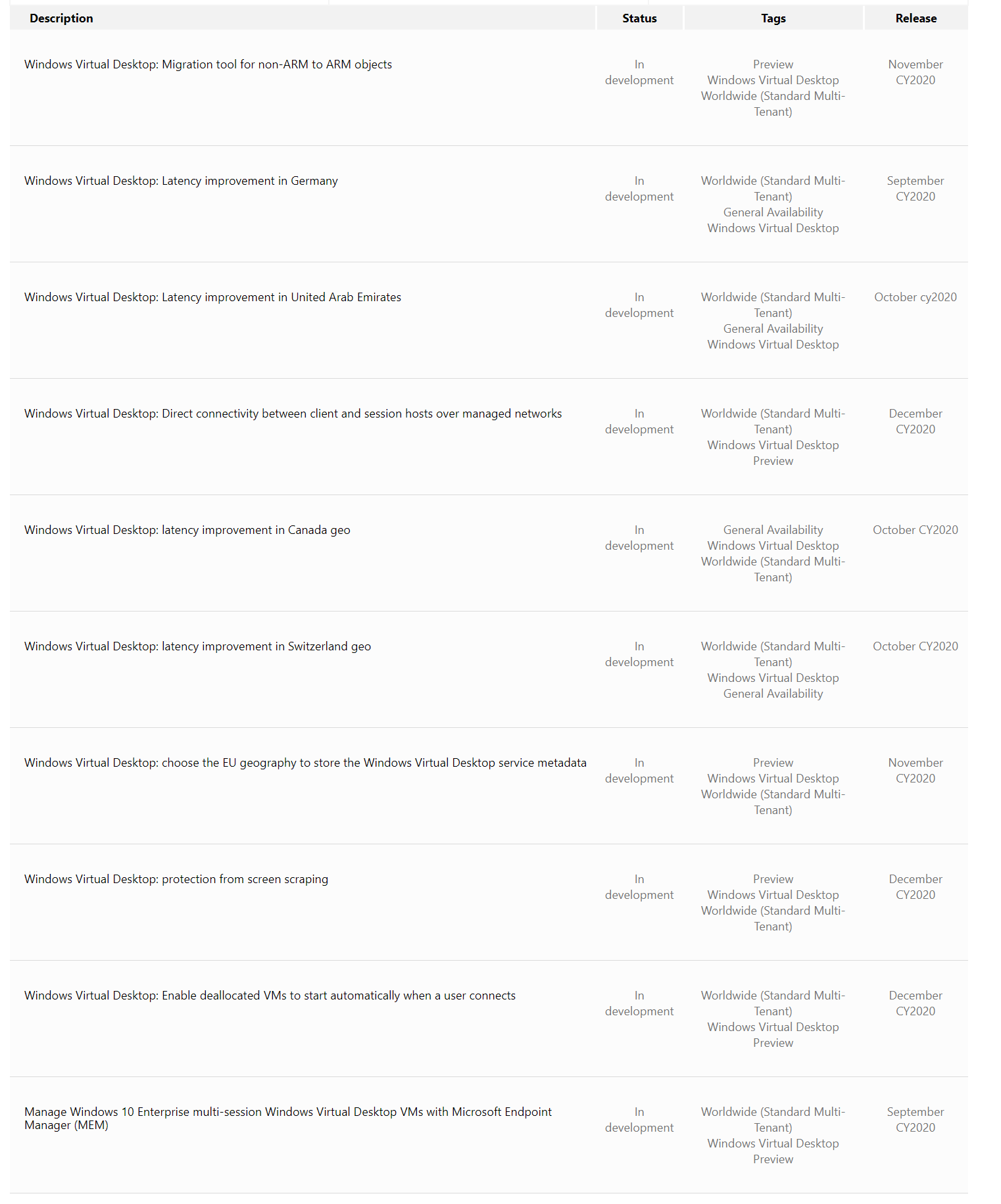 Securing your Windows Virtual Desktop Environment
Pieter Wigleven has produced a really great video on how to secure your WVD Desktops end to end. He shares the build-in security capabilities of WVD and how we can integrate into the rest of the Azure and Microsoft security offerings.
Migrate WVD Resources with the new Azure Resource Mover to other regions
Patrick Kohler has shared a really great post about the new Azure Resource Mover which was announced at Microsoft Ignite. In the post he details what Azure Resource Mover is, the use case for it and then he goes through an actual example where he helped a customer. You can read the post here – https://wvdlogix.net/migrate-sh-azureresourcemover
WVD Change Default Desktop Friendly Name
Anoop Nair shared a post about how to change the default desktop name in WVD. This is super useful, especially if you have multiple desktop pools. You can check out his post here – https://www.anoopcnair.com/wvd-change-default-desktop-friendly-name-icon/
Desktops in the Cloud – Pieter Wigleven
The guys over at Desktops in the Cloud have released their latest episode with one of the WVD Product Managers – Pieter Wigleven. In this episode they discuss the announcements at Ignite, and shoe some demo's for MSIX App Attach, MEM Integration and much more! You can watch the episode here:
Image Type and VM Prefix changes in WVD
Travis Roberts reported on twitter that you can now change your host pool image and host naming when you add a session host in the portal. Previously this was not possible, so if you wanted a different naming standard or a different image you had to create a new host pool. This is a very welcome additional indeed so thanks for pointing that out Travis!!
AppX Packages Slowing You Down?
Trentent Tye has written a really detailed blog post in which he analyses the affects of AppX Packages and logon times. In the post he details what AppX Packages are included in different OS versions and how they affect the logon times. What is interesting is the amount of packages contained in Windows 10 EVD compared to other OS's, certainly a lot less. You can read the full post here – https://www.controlup.com/appx-packages-slowing-you-down/
Windows Virtual Desktop + Liquit
Marco Moioli, a Cloud Solution Architect at Microsoft has published a post in which he discusses using Liquit alongside Windows Virtual Desktop. If you haven't seen Liquit before it enables you to have a single pane of glass where your users can see all their applications, web links, local apps, published etc in one single place. You can read the post here –
https://www.linkedin.com/pulse/windows-virtual-desktop-liquit-marco-moioli/
Windows Virtual Desktop Client updated to 1.2.1364
Microsoft have updated the client to 1.2.1364 with a number of fixes and a new feature. A full list is:

The post WVD Weekly blog post 20th September – 27th September appeared first on WVD Community.