Hello, and welcome to the 24th Windows Virtual Desktop weekly blog post!! It has been yet another busy week in the world of WVD and the WVD Community.
First we will give you a community stats update:
Slack channel: 535 members and we´re still growing! You can find us here: https://communityinviter.com/apps/wvdcommunity/join
Podcast: 1339 downloads
Twitter Followers: 1207 Followers
Event page views: Incredible 3935 page views!!
IGEL Digital Disrupt Unlocked EMEA 2020
This years IGEL Digital Disrupt EMEA is nearly upon us and there are a few sessions relating to WVD!! You can sign up to the event here – https://disruptemea.vfairs.com/
Our VERY own Patrick Kohler will be presenting on a Windows Virtual Desktop and IGEL success story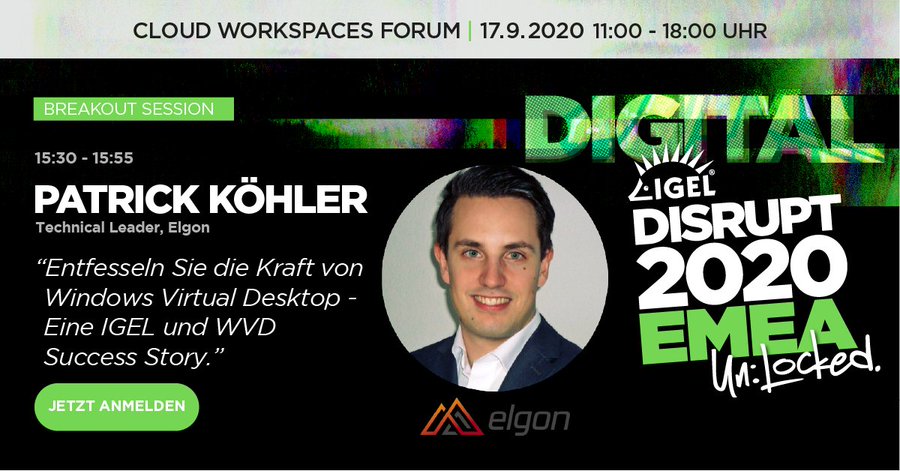 Michel Roth will be presenting a session of taking WVD to the next level to achieve cost reductions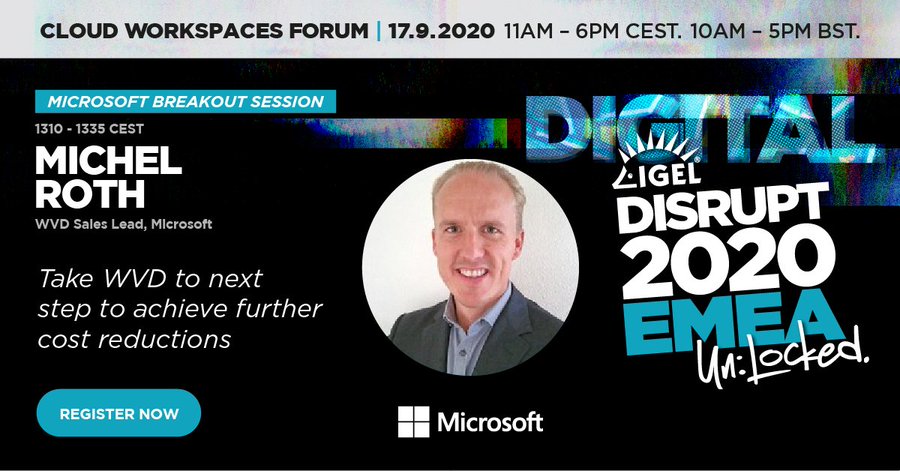 Kam VedBrat will be sharing his learnings and best pratices on how WVD is transforming remote work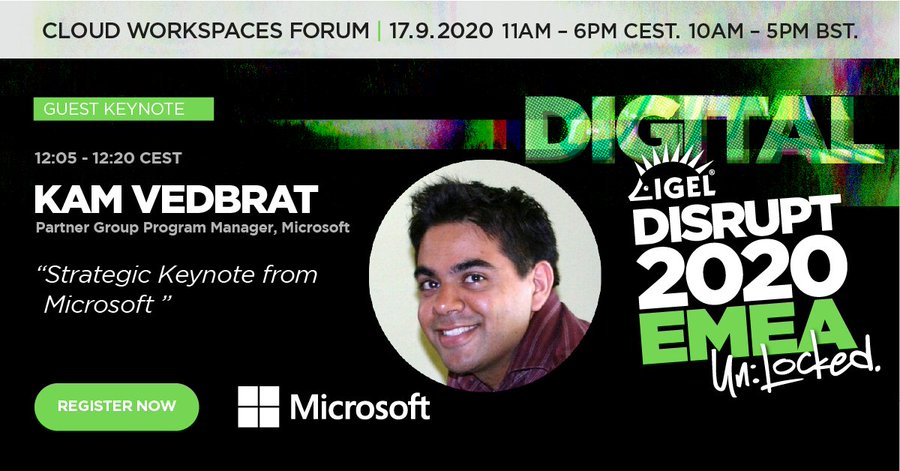 Jim Moyle will also be sharing his best practices around managing images in the cloud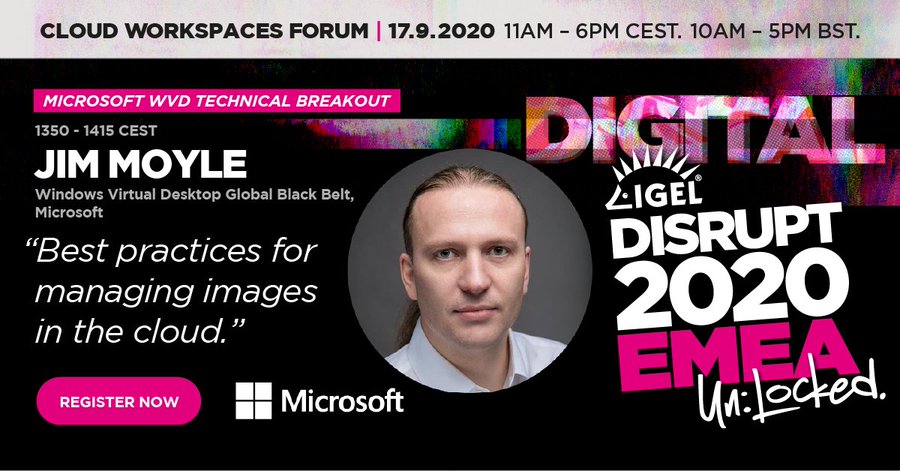 Australia New Zealand User Group Meetup
Zane Pritkovs is hosting the September Australia & New Zealand WVD meetup! If you are in that area of the world, then this looks like a really great line up! You can register here – https://www.meetup.com/Australia-New-Zealand-Windows-Virtual-Desktop-User-Group/events/dwtlxrybcmbvb
Azure Files sizing calculator for Windows Virtual Desktop
Ryan Mangan has created an awesome sizing tool for FSLogix profile sizing. As most of use FSLogix for profiles I highly recommend you check this out. Nice work Ryan!
Azure WVD in a Pandemic!
Shabaz Darr has shared a great post in which he goes into detail about how he implemented WVD for a NHS Trust here in the UK. It's a great story in which he details the challenges he faced and how he overcame them. You can check out his story here – https://iamitgeek.com/2020/09/09/azure-wvd-in-a-pandemic/
The ultimate guide to Windows logon time optimizations – part #2
James Rankin has written the 2nd part of his blog post in which he goes into a huge amount of detail of how to reduce your Windows Logon time. I don't think you will ever read anything which goes into this amount of detail so its an extremely highly recommended reading!! You can check it out here – https://james-rankin.com/features/the-ultimate-guide-to-windows-logon-time-optimizations-part-2/
Desktops in the Cloud
Christian Brinkhoff & Dean Cefola have created a new weekly podcast and news update to WVD called Desktops in the Cloud. This looks like it is going to be great community resource! This week they had their first guest on, Kam VedBrat who is the Group PM Manager for WVD. You can check out the video below and also the website is https://desktopsinthecloud.com/
WVD Saved my day!!
Torbjorn Granheden, aka Mr T-Bone, shared a great story on how a Windows insider update messed up his laptop just before he was about to deliver a 4-hour workshop. Luckily he had a Samsung Galaxy and he was able to connect to his WVD Desktop from that. Nice little WVD success story! You can read it here – http://www.tbone.se/2020/09/11/wvd-saved-my-day/
Migrating 28,000 Employees to WVD in 28 days?!
Michel Roth shared an amazing story about an Indian company who migrated over 28,000 employees to WVD in 28 days. I have worked on similar projects previously where that would have taken 28 months!! You can read the story here – https://customers.microsoft.com/en-us/story/841679-teleperformance-india-professional-services-azure-en-india
Least privileges with custom roles for Windows Virtual Desktop (WVD)
Marcel Maurer has shared a great post in which he describes how he has created some custom roles in WVD to allow you to assign the correct permissions to your Admins. Anyone who has deployed WVD and needed to lock the permissions down has quickly found out that its not so easy. Luckily Marcel has made it easy for you! As always Marcel, amazing job! You can check out his post here – https://blog.itprocloud.de/Least-privileges-with-custom-roles-for-Windows-Virtual-Desktop-(WVD)/
Using Project 'Bicep'​ (Preview) to create ARM Templates that deploy WVD!
Freek Berson has written a great post in which he explores "Project Bicep". Project Bicep is the replacement for Arm which Microsoft is currently working on. In this post Freek explains the basics, and then deploys some WVD Resources using it. You can check it out here – https://www.linkedin.com/pulse/using-project-bicep-preview-create-arm-templates-deploy-freek-berson/ He also published the BICEP Template to his GitHub – https://github.com/fberson/wvd/blob/master/Create-WVD-Backplane.bicep
Nerdio Updates
The team over at Nerdio have been working hard and have announced that they will be supporting support for MSIX AppAttach, as well as a host of other features. You can check out the features here – https://nmw.zendesk.com/hc/en-us/articles/360045731614-Release-Notes
WVD Client updated
The WVD Client has been updated to v1.2.1357 on the Insiders Build. There only seems to be a single fix which is a fix to SSO on Windows 7. I hope there aren't many people out there using that!
You can download it from here – https://docs.microsoft.com/en-gb/windows-server/remote/remote-desktop-services/clients/windowsdesktop-whatsnew
Azure Advisor now supports WVD
Azure Advisor is a service which Analyzes your configuration and gives you recommendations to solve common problems or make your environment run better. The good news is that this is now fully supports WVD! You can find more details about the service here – https://docs.microsoft.com/en-us/azure/virtual-desktop/azure-advisor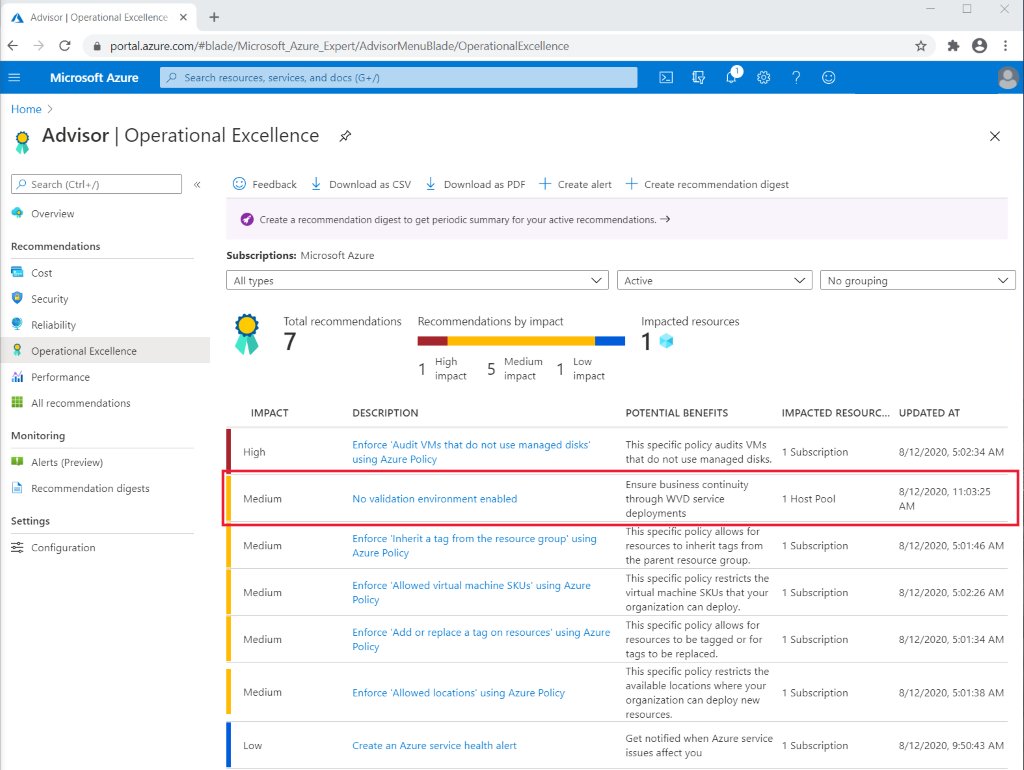 The post WVD Weekly blog post 5th September – 12th September appeared first on WVD Community.